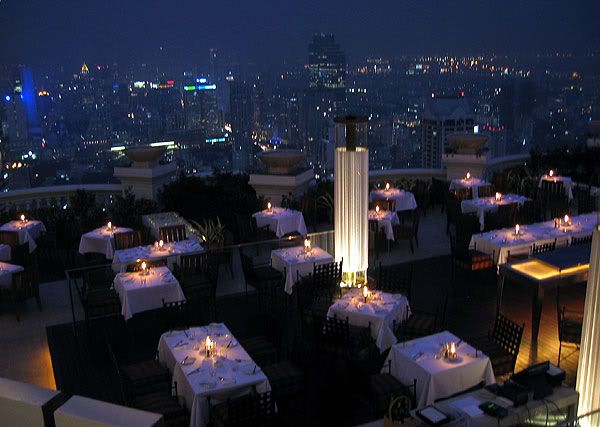 Mezzaluna
63rd Floor, State Tower Bangkok
1055 Silom Road, Bangrak
Bangkok 10500
Thailand
Tel : +66 (0) 2624-9555
Fax : +66(0) 2624-9554
Website :
www.thedomebkk.com
Email :
reservations@thedomebkk.com
You've probably heard of the famous
Sirocco Restaurant
in Bangkok. The award-winning alfresco fine-dining venue on the 63rd floor of Bangkok's second tallest building, the State
Tower. And so..what will a visit to Bangkok be if we missed out on an opportunity to wine and dine at this much-talked about restaurant. E did finally managed to book us a table a week before our trip there. And we came prepared and dressed to the occasion as they have strict house rules with regards to attire. However,
with the rain and dark stormy clouds looming above, we had to kiss the opportunity goodbye and settle for the next best. You see, as Sirocco is an alfresco dining, they are inevitably affected by the elements and in this case, the threatening clouds and impending downpour! It was drizzling by the time the lift brought us up to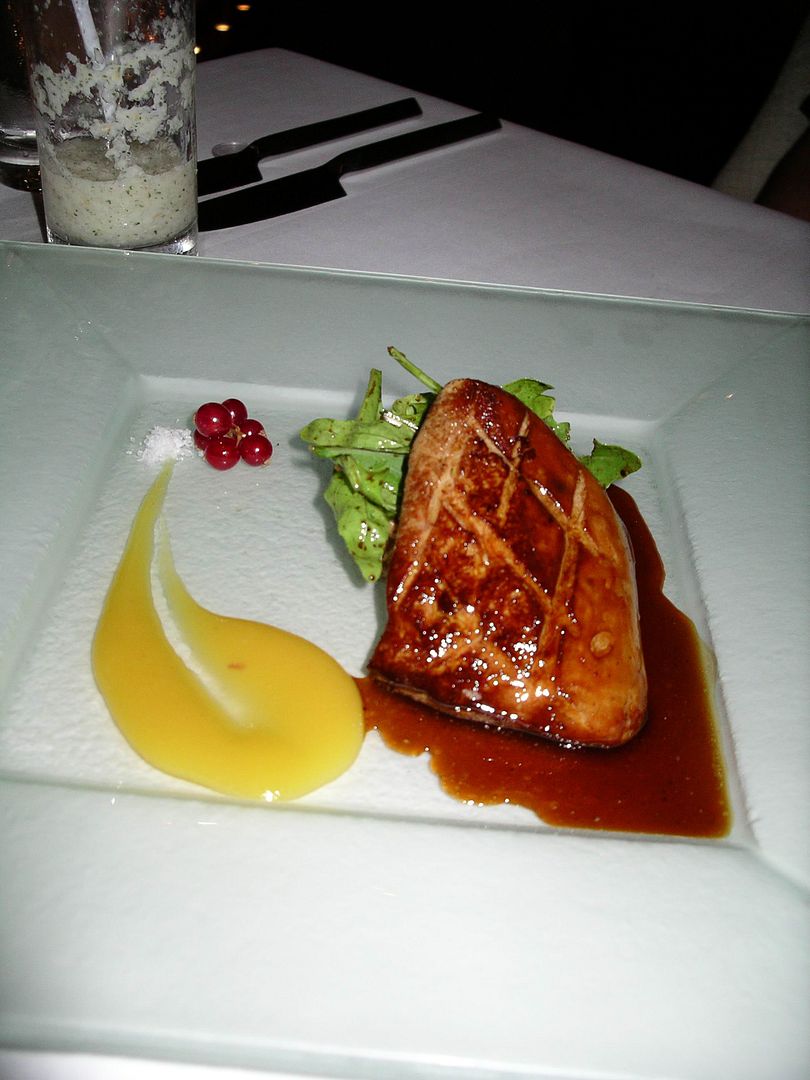 the 63rd floor and we almost couldn't hide our evident disappointment. But there's nothing we can do to beat the elements. The only consolation the Service Staff offered us was for us to take a quick walk out onto the outdoor balcony and have a panoramic view of the mesmerizing nightlights of Bangkok's colourful skyline. The view here is just breathtaking to say the least and not for the faint-hearted nor for those with a phobia for heights!
Anyway, back to the burning question...so where did we end up having our meal? We settled for Mezzaluna, another Italian reataurant also located on the 63rd floor but with indoor dining. We were not disappointed too inspite of settling for second best! Both Mum and I decided on the 6-course Degustation Menu which cost a whopping 3800 bahts because we were exhausted just looking through the extensive ala-carte menu. Dad settled on a Pan Fried Foie Gras with Pineapple Jus Reduction for his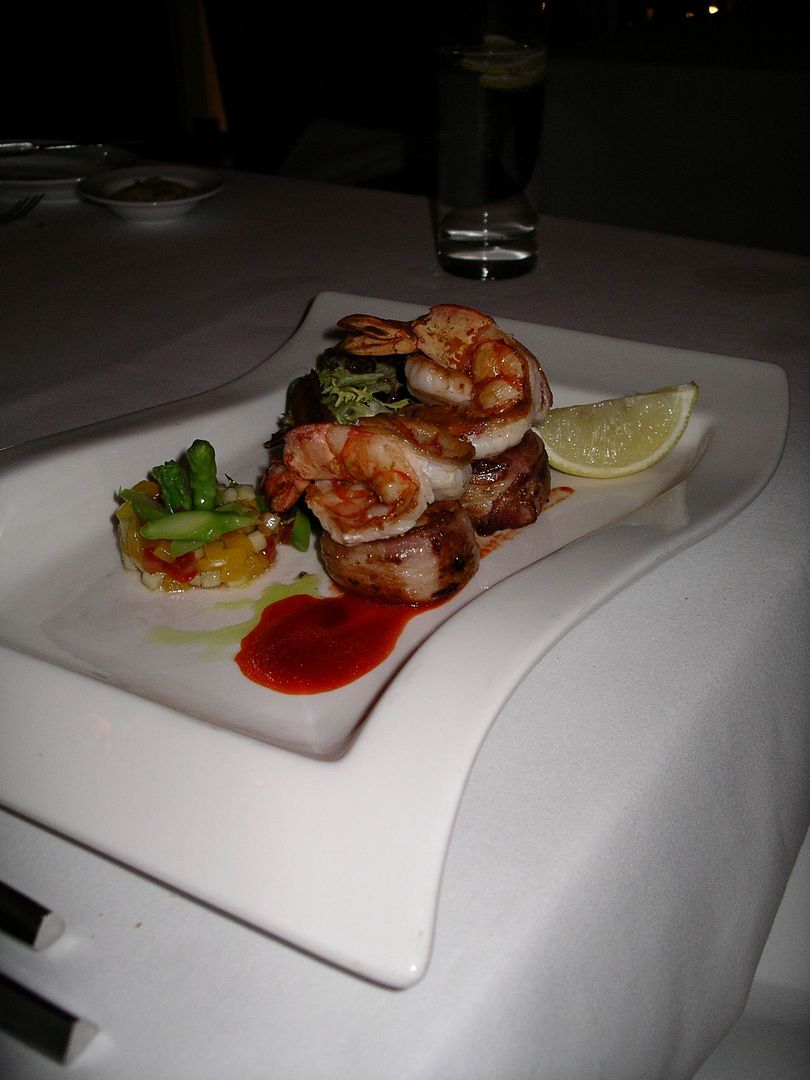 appetizer which he described as simply
shiok!
The sauce also complemented the dish well without being too overpowering and acidic. For his main course, he had his eyes set on the Chargrilled Matsusaka Beef with Potato Mash and Baby Spinach. Aiyo! Dad offered me a bite and my eyes just rolled up towards the heavens. This is supposed to be an in-between grade between the famous Kobe Beef and the equally famous and slightly more affordable Wagyu Beef. So...you know why I was in seventh heaven
lah! The beef was so well-marbled and tender that it just literally melts away in your mouth! The portion served was big too which explains why my dad was generously sharing some of the beef with the rest of us. But the price tag was equally BIG too at 4200 bahts!!! That's even more expensive than my Degustation Menu put together!! E had a safe choice of Proscuitto with Melon for appetizer which like I mentioned was just safe (to read as OK lah, ordinary...etc) For mains, she had the Grilled Tiger Prawns and Scallops which was a great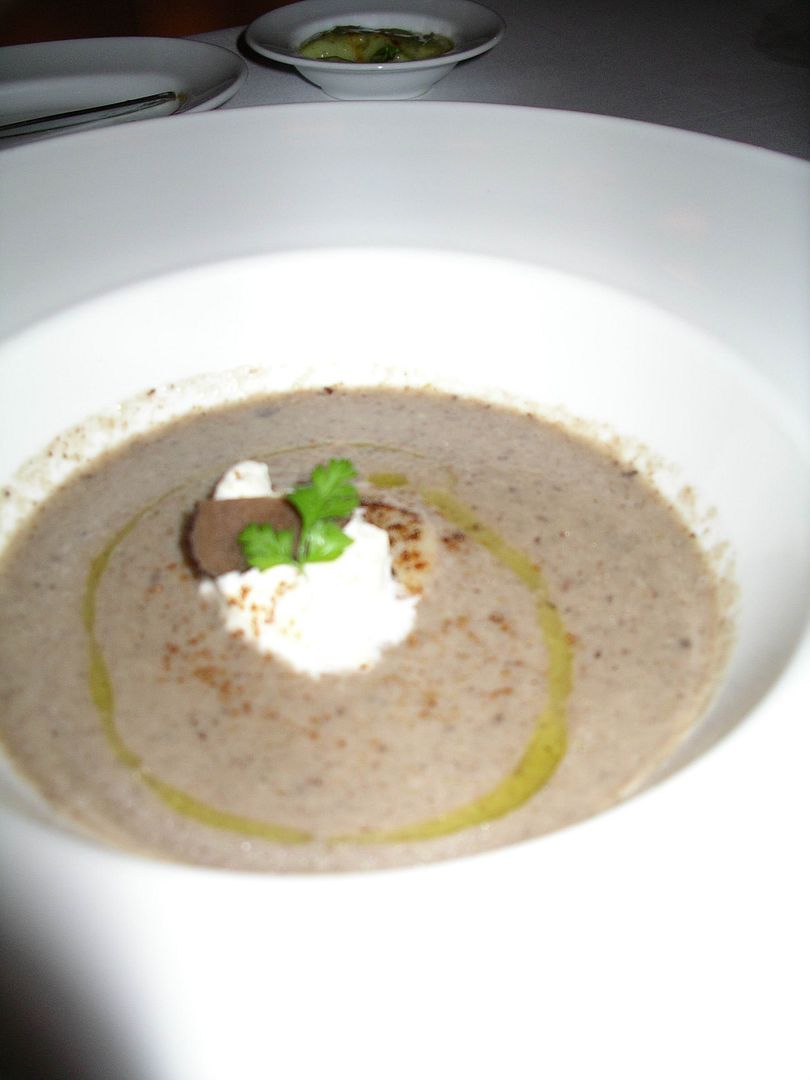 ala-carte choice as she wanted something light. Both the prawns and scallops were fresh and succulent and grilled to perfection. As for my Degustation Menu, I started off on an Antipasto Plate which consisted of a light assortments of pan fried foie gras, fresh oyster with a dill and lime mayo dressing, crayfish and tomato tian and proscuitto. Not a bad start to whet one's appetite for yummier things to come...Next up, came the
Mushroom Cappucino with White Truffle Oil Drizzle. I particularly like the light foamy texture of the soup as you slish it around in your mouth. We had the Gratinated Canelloni stuffed with Maine Lobster next which was pretty ordinary. I was trying to find chunks of lobster in my canelloni but was disappointed when all I got was minced lobster stuffed into the pasta shells. To prepare us for our main course, we were all served a Pineapple Sherbet to cleanse our palates...Mmmm! Dad loved it and was complaining that they only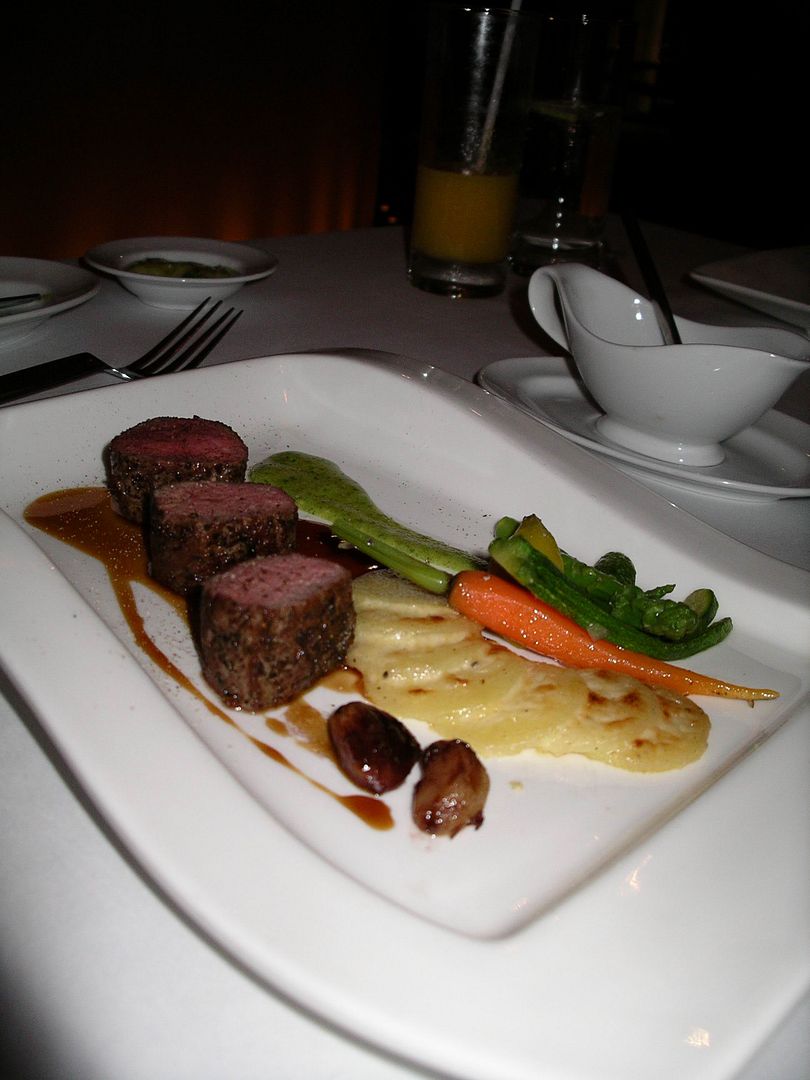 served us one tiny scoop each. It's a palate cleanser not dessert, Dad! And so, we were served the Morelle Mushroom encrusted Lamb Noisettes. The lamb was delicately marinated and encrusted with minced morelle mushroom and baked. It was nicely done and juicy and without the 'lamby' note that some would find offensive in lamb/mutton dishes. It was light (to be read as small portion!) but appropriately so as we moved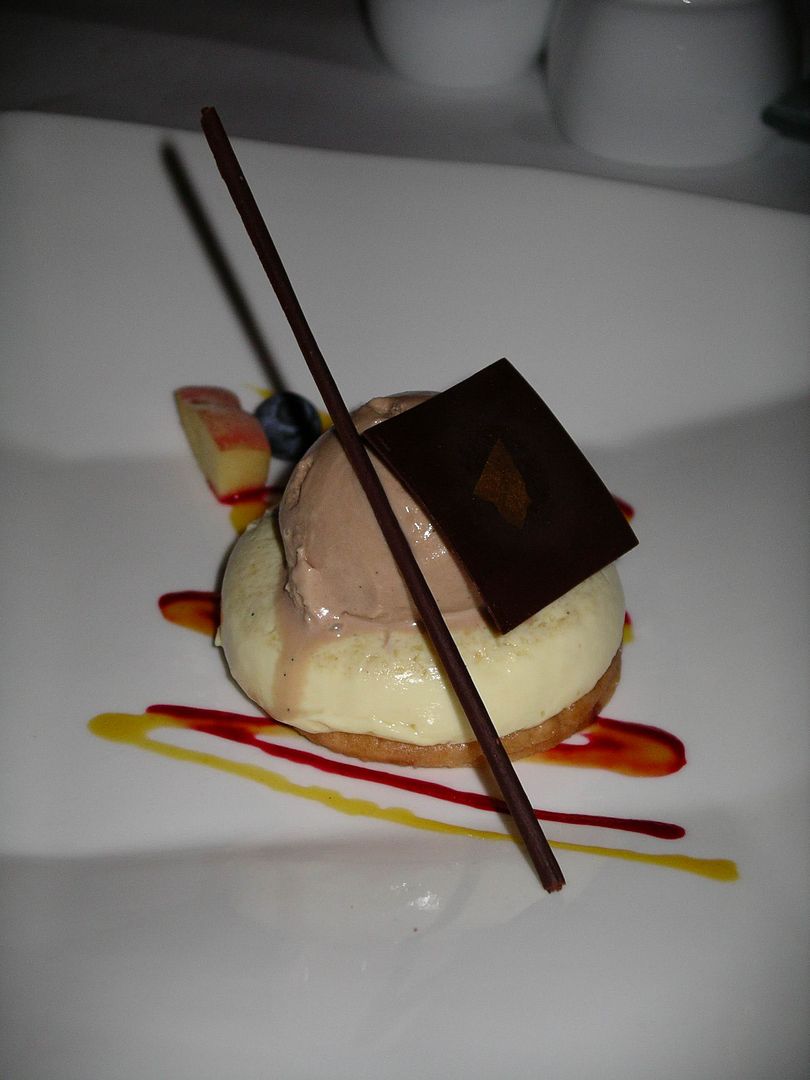 to the final end of the 6-course dinner. I was almost bursting at the seams already at this point...and there's still dessert to behold! I had the Lemon-Lime Brulee which was an apt finale to a wonderful and satisfying meal. Light both on taste and texture and simply enjoyable. If you next visit Bangkok and you have the $$$ to splurge on makan...consider the Sirocco for its food, picturesque view and unique alfreso dining experience. But if you have the chance, thanks maybe to unforeseen weather changes, don't forget to give Mezzaluna a go while you are there! I don't think you will be disappointed.