Ban Klang Nam
288 Soi 14 Rama III Road,
Bangkhlo, Bangkhlolame,
Bangkok 10120
Tel : 0-2689-1969, 0-2292-0175, 0-2292-2037
Open Daily 11.00 am - 10.30 pm
Mum, Dad, E and myself popped by nearby Bangkok last week for a weekend of gatronomy indulgences and shopping bliss. We didn't quite shop till we drop but we sure made sure we
didn't miss out on any makan opportunities whilst there. The first night E brought us to this local haunt, a 'kelong-style' restaurant nestled on the bank of the Chao Praya River and overlooking the huge Rama IX cable-stayed bridge. The sweeping view of the river and the bridge is magnificent if you can get a table out on the verandah. First on the menu
, we had the perenniel favourite,
Tom Yam Goong
. The tantalising concoction of sweetness from the fresh and succulent river prawns together with the tangy lime juice and a light lashing of coconut milk is enough is whet your appetite. Next came the Thai Otah Otah which was lemak but I felt could do with another pinch of salt or some
nam pla
to make it even more yummy! We ordered the Stir-fried Bittergourd Shoots with Minced Garlic as we have never tasted this vegetable before.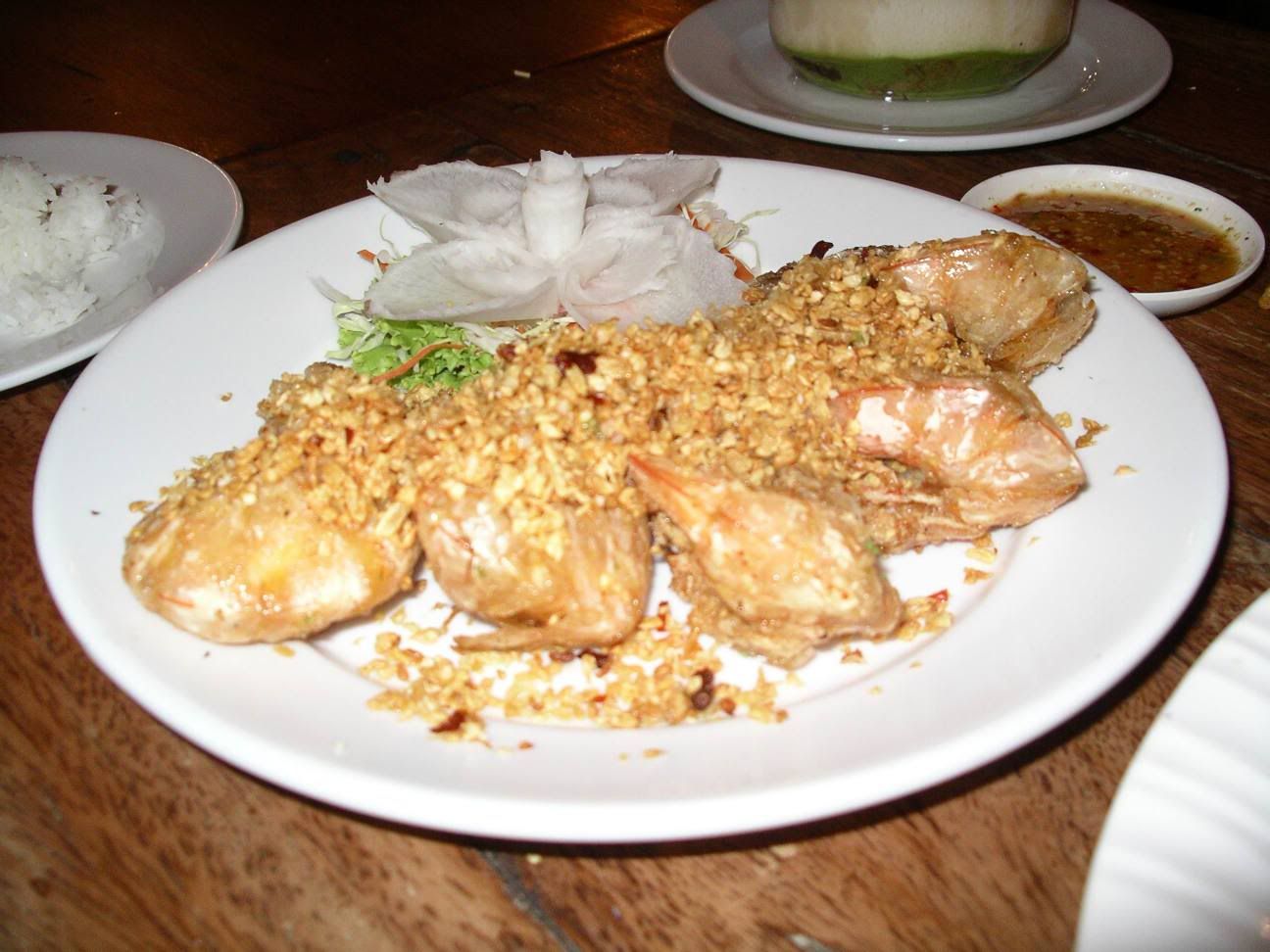 This was an interesting dish as it was a cross between
Dou Miao
(Pea Shoots) and
Fan Shu Ye
(Sweet Potato Leaves). It was cooked just nicely without being too overcooked and stringy. Next up, E ordered one of her favourites, Deep Fried River Prawns with Garlic. The deep-fried prawns were fresh and succulent and the garlic nibs fried just to perfection were sweet and aromatic. We were recommended the Steamed Scallops with Minced Garlic. (Ahem...garlic again! Garlic
breath aarrgh!) The scallops were thick and chunky and were steamed with just the right timing, making it tender and juicy. However, we felt that it lacked the natural seafood sweetness...maybe a case of frozen scallops as opposed to fresh ones?!? The next dish was also a highly recommended dish...Thai-style Salt Grilled Sea Bass. Fresh whole fish (read scales and guts intact!) packed in sea salt and thrown on the grill. The compacted sea salt layer ensures that the natural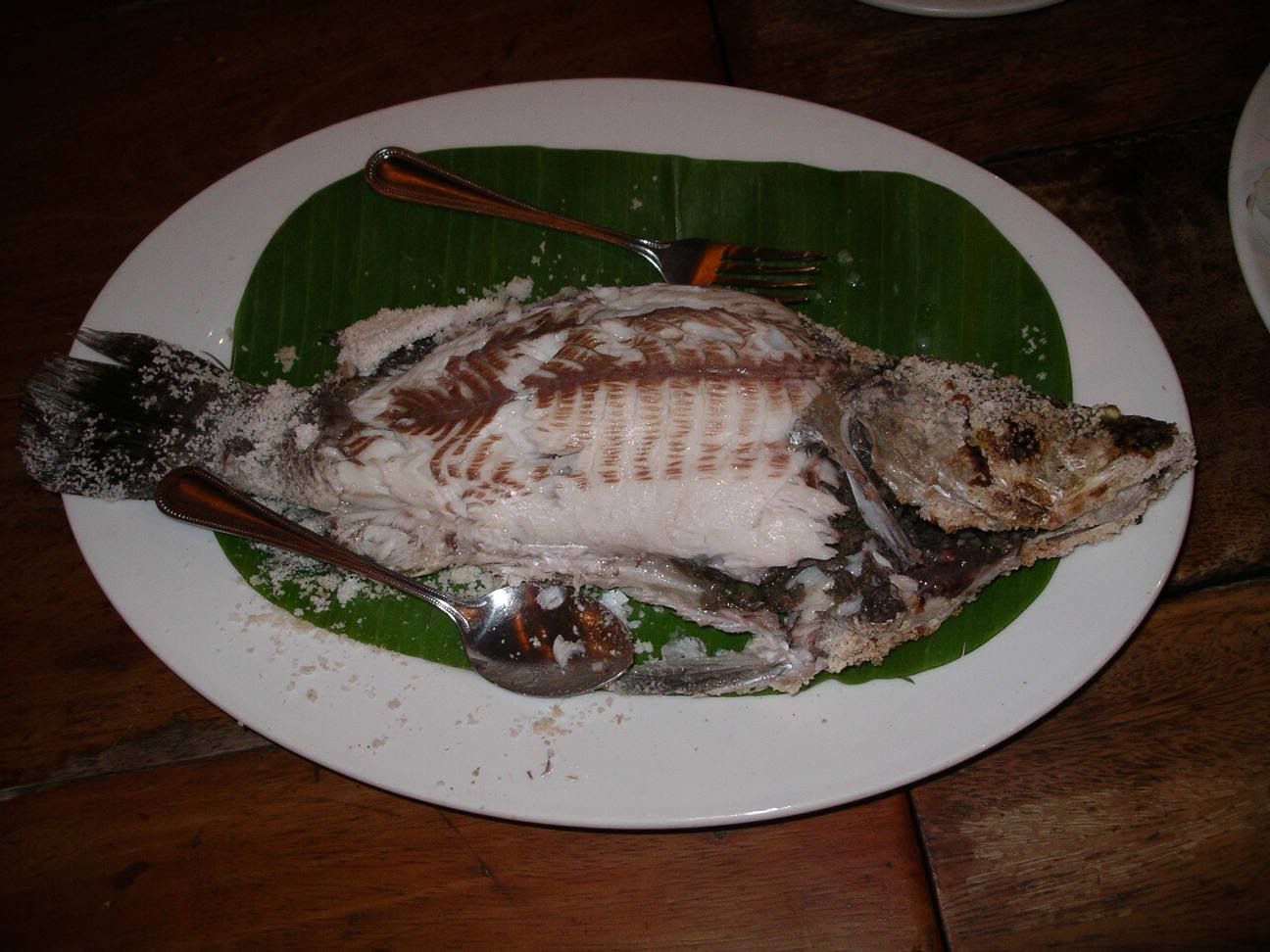 sweetness of the fish is retained and helps to evenly distribute heat throughout to ensure even cooking. To eat...simply remove salt crust...peel away the fish skin (scales come off at the same time!)...and enjoy! Simple fare but heavenly shiok! Next up...what is a seafood makan without crabs!? And so E ordered the Thai-style Curry Crabs which is also the restaurant's speciality. The
crab was sweet and meaty but I didn't quite like the curry sauce which was a tad too sweet and lemak for my liking. It didn't help that they threw in some fenugreek to spice it up. But...having said all that..E still loves crabs! Finally, to top off the night's feasting, we had a satisfying round of Sticky Rice with Mango. Make sure you pre-order in case it runs of of stock towards the end of your dining experience. That will be
such a huge letdown! Overall, the food was good and reasonably priced. Reservation is highly recommended. The Service Staff there speaks basic English and you can even get them to speak to your taxi-driver for routes to get to the restaurant (via mobile phone though). Well, at least that's what E did and it worked out well! I give the restaurant a thumbs up for food, ambience and pricing. Drop by for a meal if you have the time whilst in Bangkok.